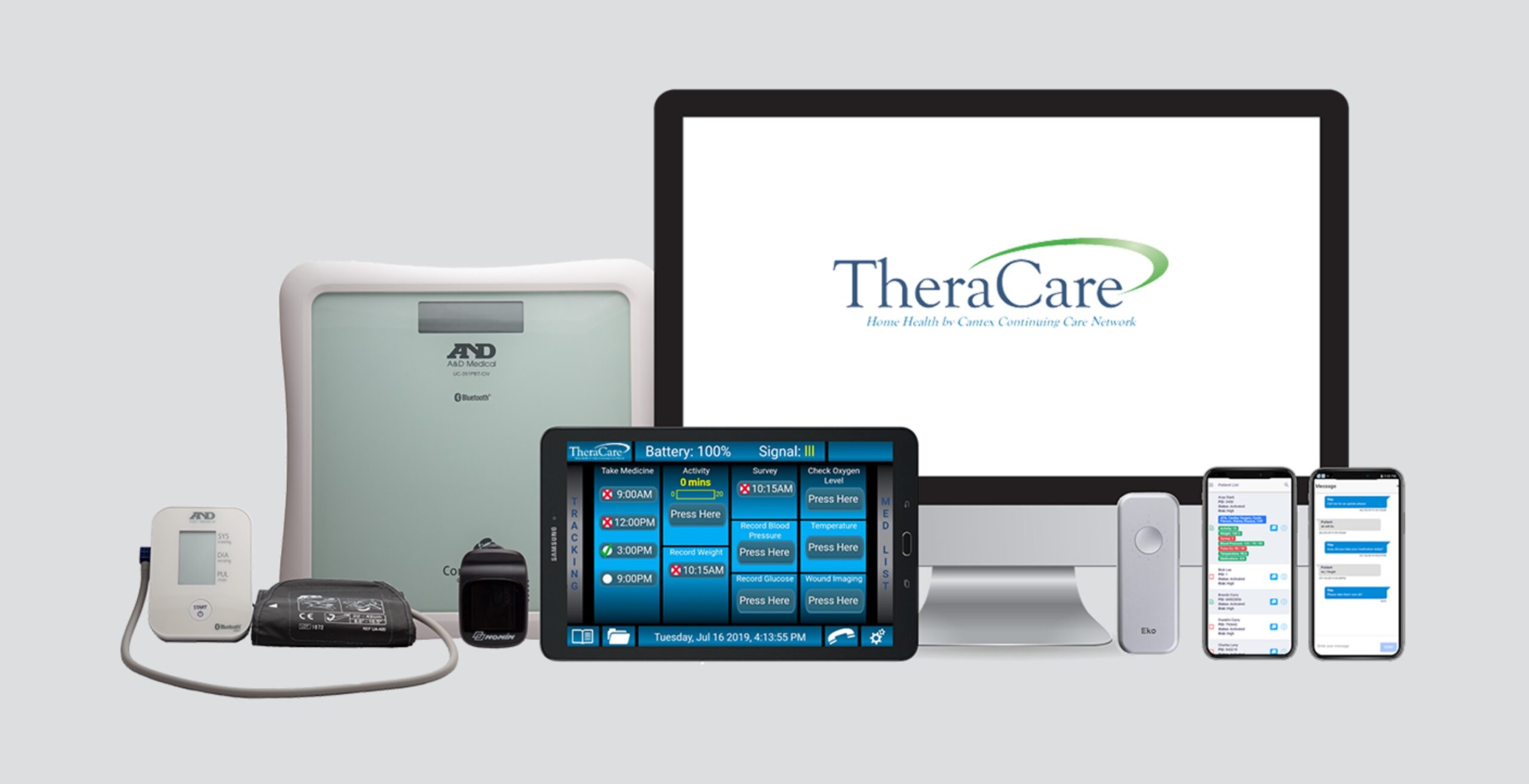 Hospital readmission after discharge is a consistent challenge in health care. It's expensive for patients and disruptive to their lives. According to a 2019 study published in the Journal of the American Medical Directors Association, some 24.2% of Medicare patients discharged from skilled nursing facilities were readmitted to the hospital within 30 days of discharge.
Now, through the launch of a telehealth and remote patient monitoring program, TheraCare Home Health – a Cantex company – is working to decrease the risk of readmission for patients. And these efforts are paying off. Since launching the new platform, the rate of readmission for TheraCare patients is a low 6%.
Sophisticated technology that's easy to use
TheraCare is partnering with Health Recovery Solutions (HRS), a national telehealth provider named Best in KLAS by KLAS Research. At the time of discharge from the hospital or a skilled nursing facility, TheraCare patients in the telehealth program receive a 4G Samsung tablet and appropriate Bluetooth biometric devices such as a scale, a pulse oximeter, and/or a blood pressure cuff. The tablet software enables 24/7 nurse monitoring and includes video and phone capabilities.
Patients use the technology to record their vital signs, take symptom surveys, view their care plan, and watch educational videos. All are customized to the patient's condition and needs. Patients can also communicate directly with their health care team by phone, text, or video call.
Growing beyond COVID-19
Originally launched as a way to help reduce strain on local hospitals during the COVID-19 pandemic, the system is now also being used to monitor other high-risk patients at home. Those with diabetes, congestive heart failure, and chronic obstructive pulmonary disease all potentially can benefit from this technology platform.
"While many providers are using virtual visits to conduct routine care appointments, TheraCare Home Health is one of the first home health programs in the state to adopt such an innovative and robust telehealth platform for our patients," said Ty Jelinek, Cantex Director of Home and Community Based Services. "We're thrilled to launch this program, especially at a time when our patients and communities need it most."
TheraCare's telehealth services are available to its patients in many Texas locations and program availability is expected to grow. The telehealth platform is also an option for patients of Elysian Hospice, another Cantex company. For hospice use, the platform is useful for helping to manage patient symptoms and pain and for 24/7 communication with the care team.
Keeping patients engaged at home
A core part of the TheraCare telehealth program is education, both for the caregiver and the patient. Patients can fill out surveys about their symptoms, watch helpful educational videos, and take quizzes that are specific to their condition.
Jerry Dunnavant is one TheraCare patient who has seen real benefits from the program. After repeated hospitalizations due to chronic conditions, Dunnavant became a telehealth user. "I was going to the hospital every month, which was very difficult. Even more so with the added risk of COVID-19," he said. "I am really happy to have this option for my care."
Through the tablet, patients and caregivers can launch virtual visits. Such visits can be useful for keeping a close connection to post-surgical patients and connecting with the care team. Another important advantage benefits those who require physical therapy. As of 2020, the Center for Medicare and Medicaid Services began limiting the number of in-person physical therapy visits for which patients are eligible. Through virtual therapy appointments, patients are able to get the care they need.
TheraCare telehealth up close and personal
This 3-minute video, designed for patients who are new to the system,  explains how to use the equipment and perform such tasks as checking vital signs and automatically recording the results.