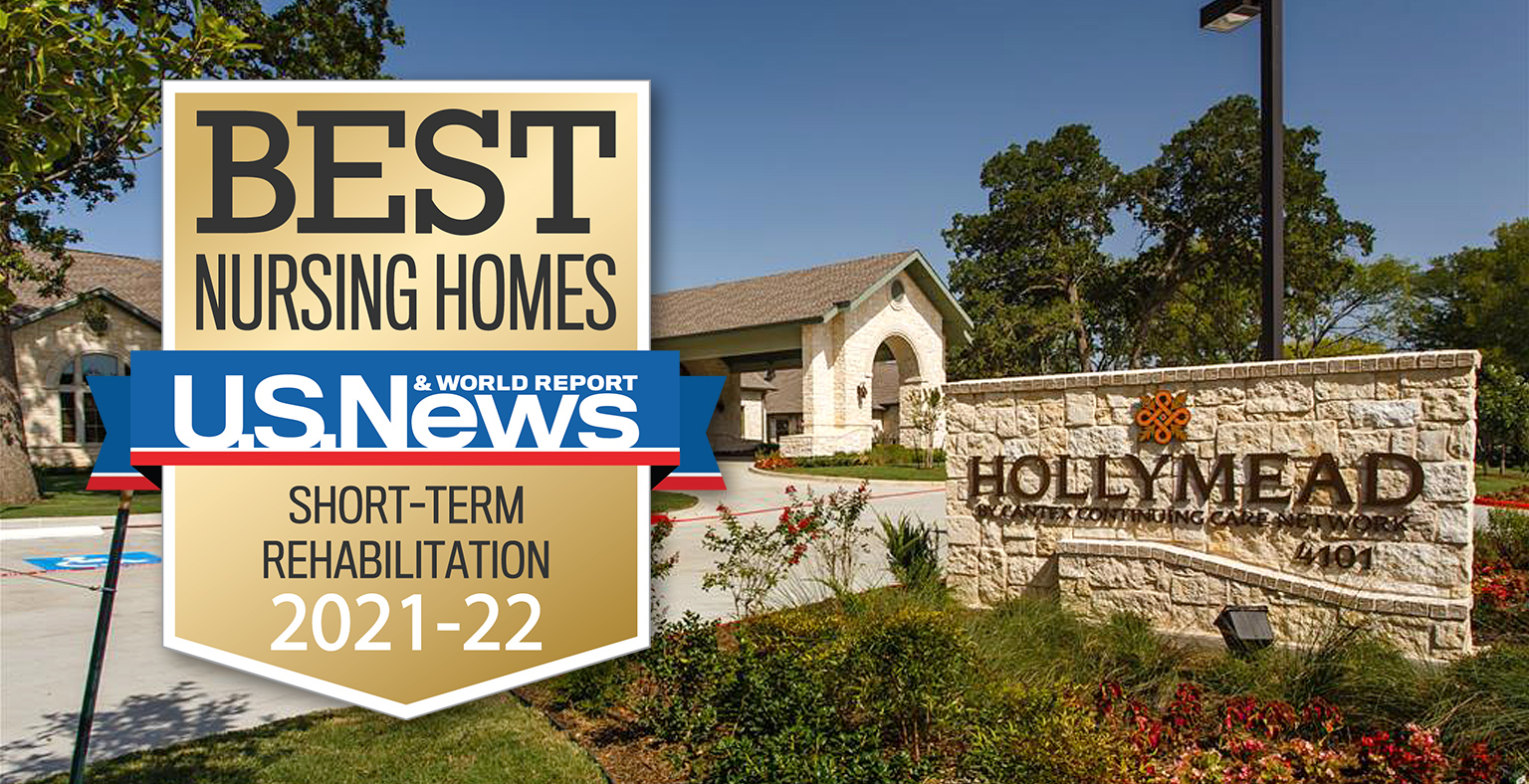 Hollymead is among the elite 13% of nursing homes that earned High Performing status in U.S. News & World Report's Best Nursing Homes ratings for 2021 to 2022.
Located in Flower Mound, Texas, Hollymead is part of the Cantex Continuing Care Network and received a rating of High Performing for short-term rehabilitation care. This rating evaluates a nursing home's quality of post-acute care for patients recovering from a hospital stay, such as after a stroke, heart attack, infection, or accidental injury.
Best Nursing Homes ratings are based on an in-depth analysis of publicly available data, including:
Residents are able to return home
70.8% of Hollymead residents were able to return home after being discharged.
Compare to Texas 47.5% and national 50.8% averages. The ability to return to a personal residence rather than a hospital or other care setting is an indication of successful rehabilitation.
Falls with major injury
Only 0.4% of Hollymead residents fell, resulting in a major injury such as a bone fracture or dislocation.
Compare to Texas 1.0% and national 0.8% averages. Lower is better. Preventing injury is an indicator of quality care and attention to resident safety.
Staff COVID-19 vaccination
81.9% of Hollymead staff have received a COVID-19 vaccination.
Compare to Texas 67.4% and national 71.4% averages. Vaccinations are an important disease-prevention tool, especially when working with a vulnerable population in a residential setting.
Nurse staffing consistency
100% of days there was a registered nurse on site at Hollymead for at least 8 hours.
Compare to Texas 95.0% and national 97.8% averages. Some nursing homes may fall short of the federal minimum requirements on weekends. Adequate staffing is associated with better safety and outcomes.
Learn more about Best Nursing Homes ratings
In 2021, U.S. News & World Report evaluated more than 15,000 nursing homes to help families find the best care for their loved ones. The Best Nursing Homes badge is widely recognized as a symbol of excellence in U.S. health care awarded by an unbiased trust agent.